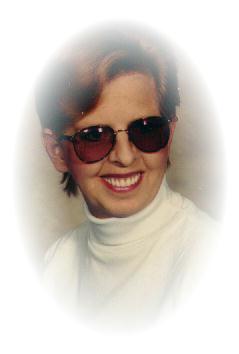 Cindy O'Connor is a 42 year old woman who has been writing for 28 years and published in many magazines, books, and in Song. Wheelchair bound since 1989, writing has been a good release as well as a means to help others.
Cindy writes personalized poems for individuals.
Get an original poem for your greeting card needs.
Say in poetry what you really want to.
Cindy will write your greeting card and email it to you.
Prices range from only $1.00 to $3.00. Price is negotiable.
Thoughts to Meditate
My Proclamation
I'm Drinking From My Saucer!
AuSable Night Memories
Did You Hear?
Are Your Prayers Answered
The Voice Within
The Valley
Living Words To Forgive
Just For Today
Love Given Returns
The Meaning of True Love
Finding Inner Peace!
Healing Spirit Of Silence
The Secret
Are You My Judge?
The Touch Of Mama's Hand
Like Whom Shall We Be?
Real Prayer
New Worlds To Conquer
The Disabled
The Captain's Reply
Spiritual Pioneers
Revive Us Today
Trust
When God Calls
I'd Like To Know
An Inward Prayer
Memory of a Mystery
You've Kept The Faith
Thou Leadest Me!
Doing Things Your Way
The Blessings You Give
Just Why!
Savor The Moments Of This Day!
My Shepherd!
God, Show Me How!
Teach Me To Listen!
Too Busy!
Photographs
I Love You!
Look Twice!
One
A Letter From Heaven
A Special Corner

Short Story Comedies
Consolation
When The Tailgunner Changed His Mind
Fire Power
I'll Keep 'Em Awake
Short Quips and Thoughts


View My Guestbook
Sign My Guestbook



Cindy O'Connor's poems are all copyrighted. Please credit.




" They that wait upon the Lord shall renew their strength. They shall mount up with wings like Eagles. They shall run and not be weary; They shall walk and not Faint." Isaiah 40:31