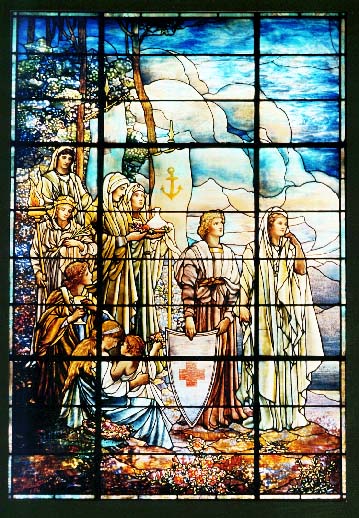 THE BLESSINGS YOU GIVE
By Cindy O'Connor

Dear Lord of all my days and years,
The joyful times, the pain and tears,
My peace and calm within the storm
That keeps me safe from any harm...
I know that tears must sometimes fall
To help me stand up strong and tall,
All strength and power is Yours to give,
Your hand is there each day I live.
When on the mountaintop I stand
The blessings flow from Your strong hand
But when the valley days are here,
I feel Your presence always near.
Just fill me with Your love each day
To give to others, by the way,
The blessings that You give to me,
Help me to share to them lovingly...
That I might be Your light of love,
A blessing from Your throne above.
There are so many in despair
I need to show that You are there.
So Lord of all my days and years,
Help me to dry another's tears,
To show the love You give each day -
The blessings we should give away.



The Left Tiffany Window was funded by the Women's Relief Corps of the North. It shows the legendary Saint Filomena, famed for her healing powers, surrounded by women symbolizing different virtues such as hope, mercy, faith, and charity. These virtues are an integral part of the symbolism of the national headquarters building , which was conceived as a "Memorial to the Heroic Women of the Civil War." The first woman pictured in the window carries a shield emblazoned with the Red Cross emblem. Also included in the scene are a mother holding her child and a maiden carrying the Red Cross banner.
HOME
Email Me

View My Guestbook
Sign My Guestbook


Cindy O'Connor's poems are all copyrighted. Please credit.